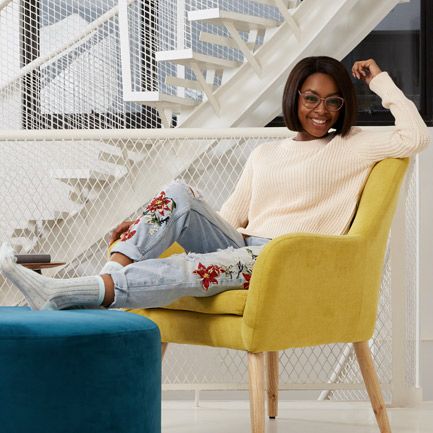 I really love my down time at home. It's important for me to show off my personal style while still being comfortable. You'll often find me at home preparing for my next performance, wearing effortless make-up and my most stylish reading glasses. My looks are all about who I am and what makes me stand out.
Being a TV presenter means I've always got to be ready to go. I never know when I'll get a message saying that I'll need to rush out to my next appointment. That's why I keep my favourite pair of statement sunglasses close by. To complete my outfit, I need to add that special touch that turns heads. If I look good, I feel good and that means I'll be the most confident version of myself on and off the screen.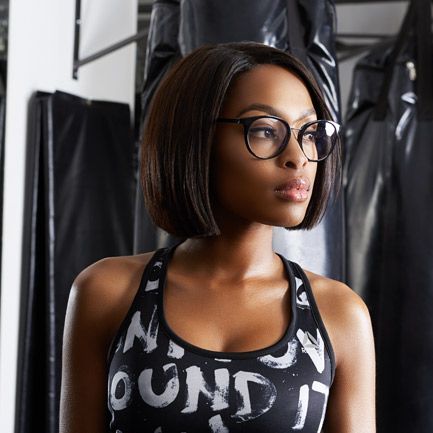 When I'm in the zone, I have to give it my best shot. Today, I'm excited to change up my style and have some fun while doing so. Sometimes I've got to shed a few layers and focus on getting the job done. Lights, camera, action!
K NAOMI'S DAY HAS JUST BEGUN.
READY TO FOLLOW HER AND DISCOVER HER V-SIDE? STAY TUNED!
INTERVIEW

When did you discover your V-Side?
I discovered my V-side when I realized how important it was to look after myself mentally and physically. I took it upon myself to make time to take care of myself. That's when I decided to go to gym and started boxing, which makes me feel like I'm paying attention to my body and my happiness.
How does your V-side impact your life as a TV Personality?
My V-side has an effect on my happiness – it has a positive impact on me mentally and physically. It's where I draw my good vibes from; it's my confidence booster

How does your V-Side influence your style and how do you accessorize?
I draw a lot of my confidence from my V-side and it's helped me find something that I can be passionate about, something that lets me express myself the best way I know how. This influences which pieces I decide to wear because I want them to be a statement about me and who I am.
How do you express yourself when you're not boxing?
I have a genuine love for fashion and I'm always seeking different ways to express my own personal style. Paying attention to my hair, sunglasses, caps and shoes, are a must, as these are important items that help me express my personality. I'm always scouting accessories that make me look and feel good!